3 Stokefield Close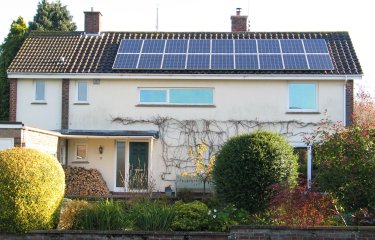 Energy-saving improvements
Low-cost improvements

Renewables: heat

Renewables: electricity

Recommended
Location
3 Stokefield Close
Thornbury
Bristol
South Gloucestershire
BS35 1HE
Opening times
19 - 20 Oct 2013
•Saturday 19 October, 12 - 6pm
•Sunday 20 October, 12 - 6pm
This event has now finished.
Other Tours will be run every hour, on the hour.
1960s detached house

Features
•Solar PV panels
•Immersion water heater control to use surplus solar electricity generation
•Log burning room heater (and log storage)
•Electronic programmable thermostatic radiator valves
•Lots of metering, graphs of usage and historic data
Location
3 Stokefield Close
Thornbury
Bristol
South Gloucestershire
BS35 1HE
Opening times
This event has now finished.
Other homes nearby